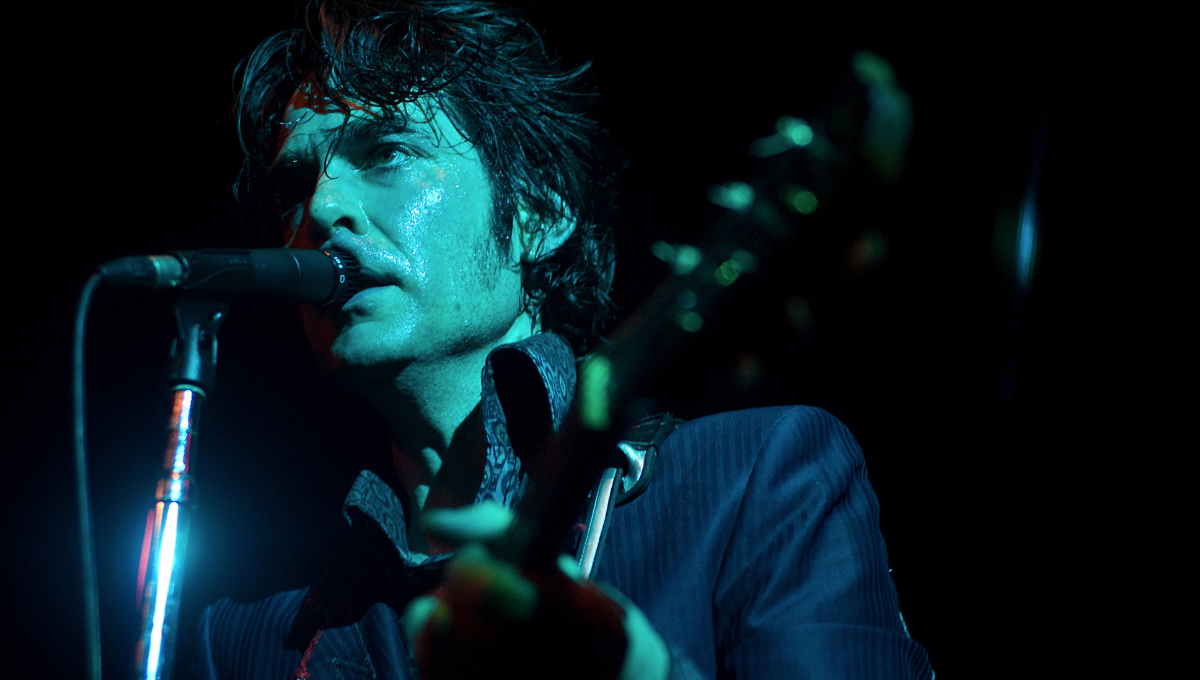 Few genres have evolved into more fantastic music or had the longevity of garage rock. And that is despite how brief that original wave of garage rock was in the mid-1960s. In fact it didn't even have a name until critics in the 1970s coined the phrase. Here are some of the best garage rock albums from the 60s to the present day.
Orange by Jon Spencer, Blues Explosion (1994)
Context is important for the fourth album by the Jon Spencer Blues Explosion. Even at the height of grunge, these songs stood out for their earthy, leering raw energy. Inspired by punk, blues, and rockabilly the album really stands out among other albums during this period. Howling vocals, guitars dueling with harmonicas, and tight drumming which pulled everything together. Spencer, Judah Bauer, and Russell Simins demonstrated astonishing self-assurance on this garage rock album. They are the guys who show up to your party, start dancing with everyone's dates, then leave just as the police are about to break up what everyone agrees was an epic night.
Consolers of the Lonely by The Raconteurs (2008)
Jack White, the lead singer of the White Stripe, has already inhabited the roles of the playful teenager and the Southern gentleman but his work with the Raconteurs is different. It doesn't seem improbable to hear the Raconteurs as White's admission that he required a new artistic ego to deal with the arena-rock he'd been involved with.  Consolers of the Lonely's opening title track has elements that resemnble Spinal Tap. There is no irony however, it's just a lot of fun. The Raconteurs write exuberant songs that have all the makings of mouthwatering summer jams.
Manipulator by Ty Segall (2014)
With Manipulator, the frequently frenzied innovator Ty Segall settles down to a purposeful, cohesive tempo. He gives up confusion for clarity. Furthermore, the precision with which instruments truly ring out is kind of strange for Ty. For devoted followers who fell in love with his motor oil-drenched pop, the change may be a contentious affair. For a guy used to submerging his music in a murky ocean of distortion and reverb, Manipulator sounds purposeful. Sharp snares and writhing, sticky guitar drive "Who's Producing You?"
Compared to "The Faker's" venomous vibrations, its melody is less steadfast. "Faker" rushes to the action with a tumbling beat. The primal, animalistic snarl that previous releases featured in Ty's vocals is absent. He instead assumes a drowsy apathy. Ty takes a chance with Manipulator and calms the chaotic commotion. He didn't lose his edge; all he did was apply some smooth out some of the rouh edges. 
Post-Nothing by Japandroids: (2009)
The Japandroids' Brian King and David Prowse didn't have any prior touring experience and had no genuine illusions that anyone outside of Vancouver would ever hear their debut garage album Post-Nothing. They hadn't played in a band before they met, and they had both attended college in Victoria, British Columbia. Prowse didn't even attempt to learn to play drums until his third year at university. They became friends because of their shared love of music, and after graduating, they reconnected in Vancouver with the goal of forming a band. At first, they had planned to add a third singer so they could concentrate on jamming as hard as they could on their individual instruments.
Post-Nothing is an album marked by raw intensity, proving that experience is not everything. The lyrics are simple and lighthearted, largely focusing on girls and drinking. But within the context of more significant problems like great aspirations, defying aging through rock 'n' roll, and the desire to escape one's hometown's strangling bonds. 
Up the Bracket by the Libertines (2002)
This filthy, drug-addled masterpiece was projectile-vomitted into the U.K. charts by brilliant but destructive London band The Libertines as the perplexing boyband phenomenon was finally slipping into obscurity. The Libertines wanted their music to be raw and their subject matter to be wounded and depraved. Following in the footsteps of their idols they even got The Clash's Mick Jones to produce the album. The band's name was inspired by Lusts of the Libertines by the Marquis de Sade.
But, before Pete Doherty's famed binges destroyed what could have been one of the best bands of the contemporary era, he and co-frontman/songwriting partner Carl Barat (together with drummer Gary Powell and bassist John Hassall) created this alternately apathetic and exhilarating album. The Libertines led the expected British response to the Strokes-led rock revival coming out of the U.S. on "Vertigo," "Time for Heroes," and "What a Waster," cutting their searing three-cord punk grit with rockabilly and UK psychedelic rock.
Philosophy of the World by The Shaggs: (1969)
It was evident that none of the three sisters from New Hampshire, Betty, Helen and Dorothy Wiggin, could actually play an instrument when they decided to start a band. At its finest, Philosophy of the World, their 1969 debut album, is a ramshackle cult classic comprised of incoherent yet endearing garage-pop sounds; at its worst, some people have thought it to be virtually unlistenable. Regardless of how you listen to their music, the Shaggs have remained influential in popular culture. They have been referenced in "Gilmore Girls," for example. They even were the subject of an unofficial stage musical. Kurt Cobain and Frank Zappa were apparently also both fans. These factors made the Shaggs great even though they weren't particularly skilled.
Crazy For You by Best Coast: (2010)
The internet was completely enamored with Bethany Cosentino in the late aughts thanks to her Instagram cat, Twitter account, and most of all her romance with singer Nathan Williams of Wavves. About ten years ago, the stoner couple dubbed the Kurt and Courtney of the new millennium reached their peak popularity. But, listening to Best Coast's much-discussed 2010 debut garage rock album, Crazy For You, now, it still stands up. The album portrays Cosentino as an adorable heroine; she is insecure, confused, and most importantly, in love. It is a beachy mashup of garage, surf rock and indie pop.